Wood Smoked BBQ
Locally Sourced × Crafted with Love
A little about Pappy Bob's BBQ...
Pappy Bob has been in the food service industry for over 25 years and was formerly a 5 star trainer running smokers for corporate restaurants. Trained in Louisville, Kentucky, he has been mastering the art of BBQ for the last 18 years. He has now returned to his origins in Ohio to forge his own path in the world of BBQ. Pappy Bob lives locally with his family and has strong ties to the community. A member of the Kansas State Barbecue society, Pappy strives to establish a new vision of Ohio barbecue. With his smoker, Ruthie May, by his side Pappy continues to serve delicious hickory and apple wood smoked BBQ at weddings, graduations, family reunions, corporate parties and all kinds of other events.
Phone
(440) 714-0178
Location
Catering for Lorain County and surrounding areas
2o19 Summer Specials
Pulled Pork And Grilled Chicken Breast Min 25 people Reg $13 Special $11 Per Person
Smoked Whole Hog (Pig Roast) with Grilled Chicken Min 50 people Reg $18 Special $16 Per Person
Both include choice of 3 sides, salads with dressings, sauces, rolls with butter, plates, plasticware, napkins and wet naps.
Set up buffet style with chafing dishes. Two 6' tables for the food available.
Good May 1st- Sept 30th
Catering available for Weddings, Graduations, Family Reunions, Birthday Parties, Golf Outings, Company Picnics, Anniversaries and More!!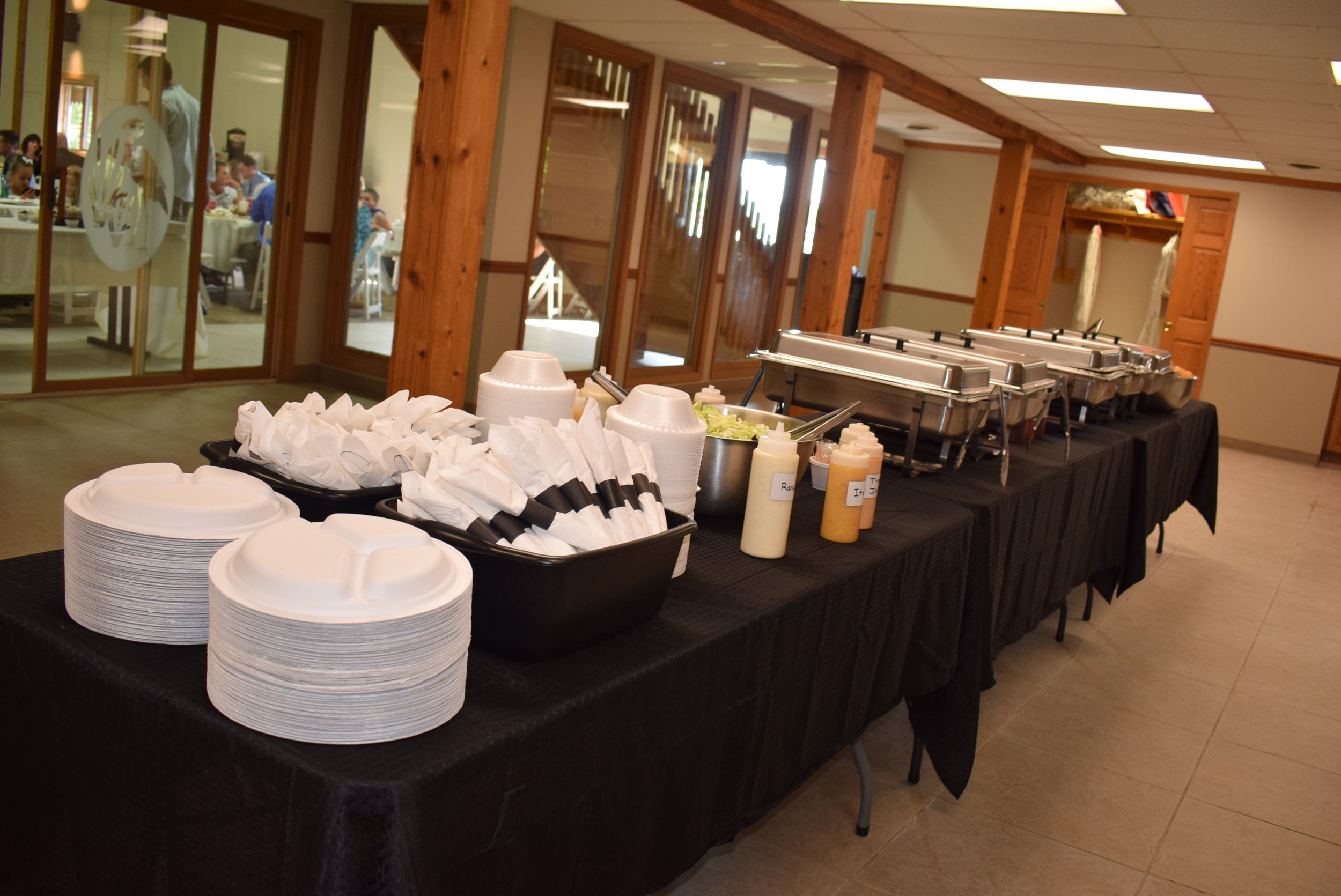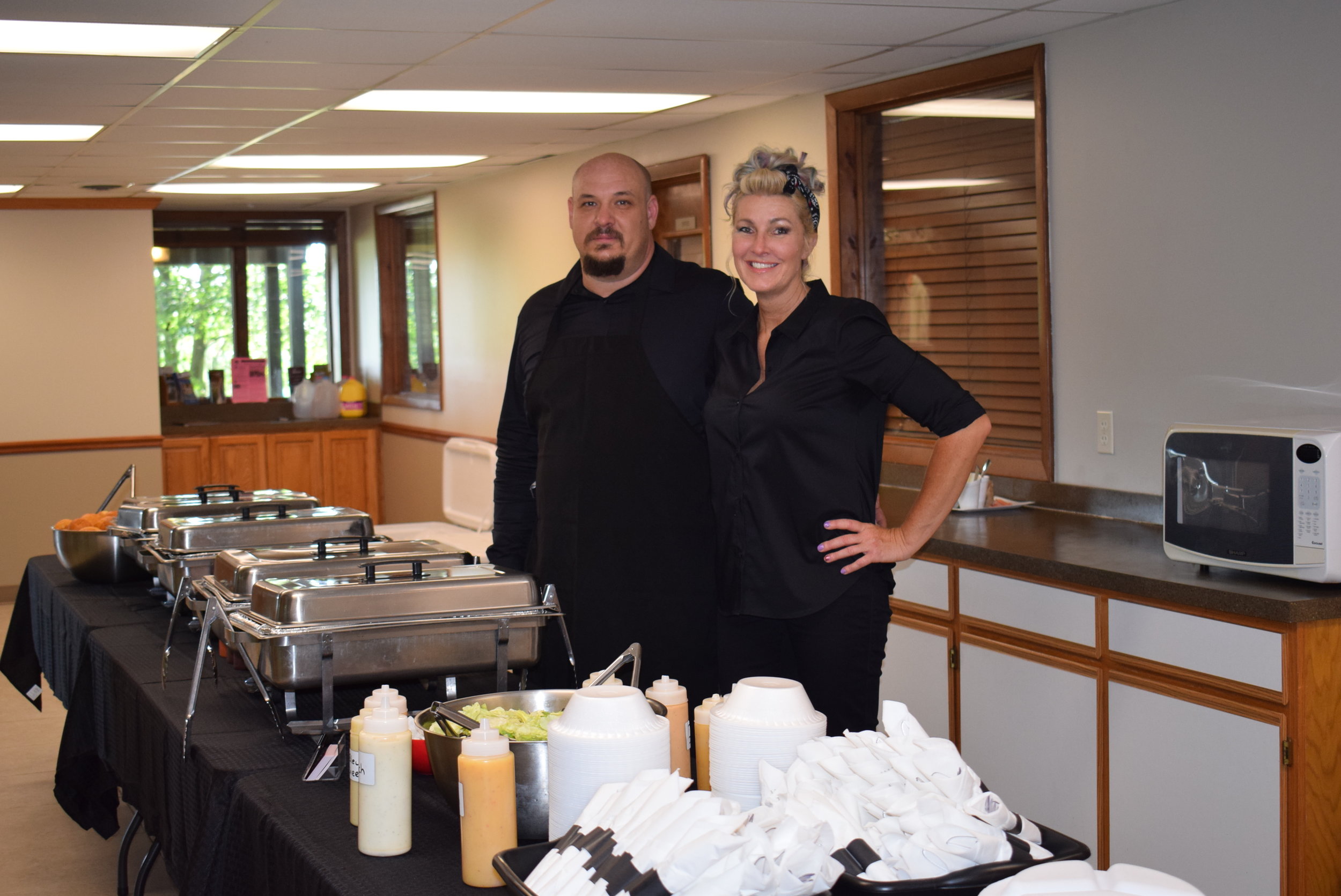 Prices per person.
Choice of one meat from A $10 Combo of two from A $13
One from B $14 Two from B $17 One from A & one from B $15
Steak Fry-
Includes steak, baked potato w/butter & sour cream, smoky baked beans, salad & dressing, roll & butter, steak sauce & dinnerware. Grilled on site $18 per person. Add grilled chicken for only $3 more per person.
Pig Roast-
Includes complete pig set up and break down, pulled chicken, 3 sides, rolls & butter, salad & dressings, and all needed dinnerware $18 per person Pig only option $10 per pound. Carving option $50
All catering is set up buffet style using stainless steel chafing dishes. If needed, we can provide tables for the food set up. Space for two 6" tables will be needed. Additional add on are available. A 25 person minimum is required on all catering events and a 20% non refundable deposit is due to reserve the date. Final payment will be due at beginning of the event. Prices are subject to change.
Optional Add On
Desserts -- Frosted Brownie or 3 Cookies $1.00 per person
Appetizers -- South O Meatballs- covered in steakhouse BBQ sauce 50/$40
Smoked Jumbo Wings- covered in choice of sauce 50/$48
Baked Potato Bar - set up with choice of topping- butter, sour cream, cheese, chives and broccoli $2.99 per person
Add on slider buns (2 each) or corn bread & wheat rolls $0.50 per person
10' x 10' EZ Up Covering food area $25
Bulk Order Delivery
Pulled Pork,Pulled Chicken or Smoked Ham $7 per lb (5 pound minimum)
Smoked Turkey or Smoked Corn Beef $14 per lb (5 pound minimum)
Brisket $18 per lb (5 pound minimum)
Smoked Baked Beans or Mac& Cheese 1/2 foil pan $25 Full foil pan $45
All other sides 1/2 foil pan $20 Full foil pan $35
$3 Delivery Charge
Free delivery on orders $250 or more
Bulk orders require 5 days notice
3% processing charge on credit card purchases
New Breakfast
Includes Scrambled eggs, hashbrowns, bacon or smoked ham, Pappy's homemade sausage gravy and biscuits $7 per person